LUXURY CAMP IN SAHARA DESERT MERZOUGA

DESCRIPTION
One of the finest tented accommodations in Morocco's Sahara Desert, the desert camp offers pure luxury at every level but retains the spirit of the culture of the Sahara Desert, given it is run exclusively by a Berber team who all originate from the area. The team are true professionals, and lots of fun, and know how to make everything run as seamlessly as possible in the desert. Service is relaxed and friendly. The attention to detail is superb; each spacious guest tent is replete with private bathroom and tent with toiletries, and fully-furnished sumptuous bedrooms completed with wall-to-wall rugs, armchairs, mirrors, lamps, and the finest bed linens. All the furniture is hand-made. There is even a well-stocked bar/salon at the camp, cosy outside relaxation areas and hammocks. Electricity is provided in the guest tents in the evenings via solar power. Or take an aperitif at the top of a tall sand dune to watch the sun set. Further activities, amongst the dunes, include sand-boarding, walking, camel riding.
CAMEL TREKKING IN MOROCCO-MERZOUGA CAMEL TREK

Morocco Sahara Holiday offers private tours from Marrakech,Fes,Casablanca, Tangier and Ouarzazate to explore Morocco best destinations for your Morocco vacation, including Sahara desert in Merzouga.
STANDARD AND LUXURY BIVOUAC AND ACTIVITIES IN MERZOUGA DESERT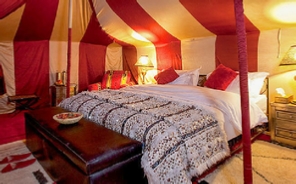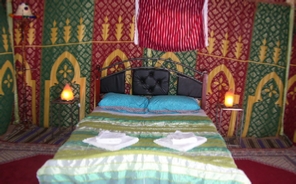 STANDARD BERBER CAMP IN DESERT OF MERZOUGA
DESCRIPTION
The traditional Berber desert camps are at the base of the great dunes of Erg Chigaga, the longest 'Erg' (sand sea) in Morocco, and well off the beaten path. The camps are encircled by smaller, rolling dunes for privacy and shelter, which offer a great vantage point for sunset and sunrise. We only arrange stays at small camps. The off-road journey by 4×4 to reach the great dunes of Erg Chebbi is wonderful and you will enter and exit the desert via two different ways, to allow you to experience as much of this remote region of the Moroccan Sahara Desert as possible - desert scrub, the Anti-Atlas mountains, the vast dry salt flats of Lake Iriqui, (once on the Paris/Dakar route), dried river beds, desert stone, and, of course, the great dunes.